Plenty of Growth Ahead for This New Subsector
In early October 2015, residents in the Porter Ranch area of Los Angeles started getting sick. Kids were getting nosebleeds and headaches.
Then on October 23, 2015, SoCalGas employees discovered a massive natural gas leak. It was escaping from a well connected to the company's Aliso Canyon storage facility.
SoCalGas eventually plugged the leak on February 18, 2016. But not before causing a carbon footprint bigger than BP's Deepwater Horizon leak in the Gulf of Mexico.
This story, as I'll explain, could have big consequences for investors. But to show you the full scope of this opportunity, we need to begin with how this leak got started.
Fourteen Months to a Fix
The Sesnon-Frew reservoir is one of several reservoirs in the Aliso Canyon oil field. Geologists first found oil there in 1938.
The Tidewater Associated Oil Company produced oil and gas there until the reservoir dried up in the early 1970s. J. Paul Getty, Tidewater's owner, sold the field to Pacific Lighting Corp.
In 1972, Pacific changed the field to store natural gas. But it never sealed any well casings.
Modern oil and gas casings are sealed to the surrounding rock using cement. If they aren't, they can leak. Today it is standard practice. This prevents contamination of the water table. It also keeps methane from escaping into the air.
The Aliso Canyon storage facility contains 115 wells. At capacity, the Aliso storage facility holds 86 billion cubic feet of natural gas. In its heyday, it was the second-largest natural gas storage facility in the U.S.
But the leak changed everything…
Some 2,824 families from Porter Ranch were relocated to escape headaches, nausea and nosebleeds caused by the leak.
SoCalGas then drilled a relief well. This contacted the original pipe below the leak.
Engineers pumped cement under high pressure through the relief well. Cement eventually filled the pipe and the surrounding rock.
More than 14 months after the leak was discovered, it was finally plugged.
But the damage was already done…
Making Natural Gas Safer
Natural gas is mostly methane. It's invisible, odorless and has an 86 times greater global warming potential than carbon dioxide.
Analysis of the leak estimated 97,100 tons of methane and 7,700 tons of ethane were leaked into the air. The methane lost each day was equal to the daily emissions of six coal-fired power plants, 2.2 million cows or 4.5 million cars. 
Since the leak, California has been set on making natural gas safer.
And it's necessary…
Utilities are turning to natural gas as a cleaner and cheaper energy source than coal. For the first time ever, natural gas-fired generation surpassed coal generation in 2016. Fully 33% of U.S. power now comes from natural gas-fired plants compared to 32% from coal.
As the trend continues, the demand for natural gas – and the infrastructure that supports it – will continue to increase.
While natural gas is cleaner than coal, there's still concern over how clean it really is.
Methane leaks – like the one at Aliso Canyon – are a big problem in the natural gas supply chain.
Every year, the U.S. energy industry allows enough natural gas to escape to meet the cooking and heating needs of 7 million families.
Even without any new EPA rules, most industry executives feel they need to do more to control methane emissions. Where is all the methane coming from?
Let's look at the three stages of the natural gas supply chain.
Methane emissions happen two ways in the natural gas supply chain: vented emissions and fugitive emissions.
Vented emissions occur by design. They are intentional.
Fugitive emissions are unintentional. They are generally leaks.
Vented and fugitive emissions occur everywhere in the supply chain.
As a result, the industry relies on eight different technologies to keep emissions under control.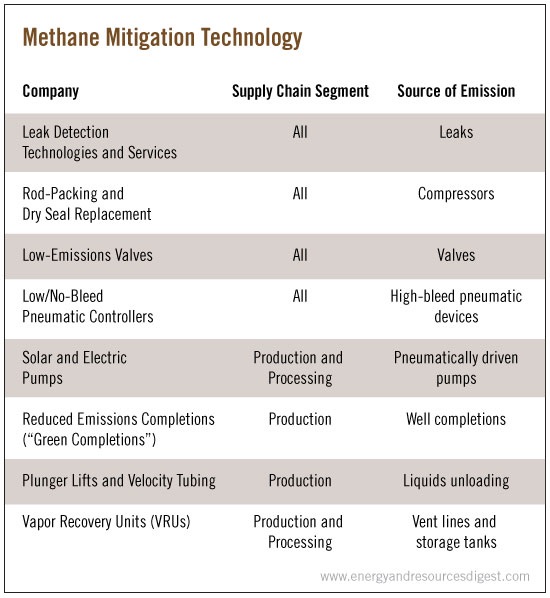 Companies involved in methane leak detection, mitigation and prevention develop these technologies.
This is a new sector with plenty of growth ahead of it.
The Birth of a New Subsector
Many of the companies involved in methane mitigation are small and privately owned. However, there are a few public ones worth noting.
FLIR Systems Inc. (Nasdaq: FLIR) has been making optical and thermal gas imaging systems since the late 1970s.
It is a global leader in infrared detection of gas. Its cameras are now an oil and gas industry standard.
Annual sales over the last four quarters were roughly $1.6 billion, and earnings over the same period were $759 million.
FLIR has manufacturing and service operations in more than 60 countries. Its shares have increased more than 27% in the last year and trade at a reasonable P/E of 28.6.
Flowserve Corp. (NYSE: FLS) is another company serving the oil and gas industry. It makes flow control systems.
These include pumps, control valves, seals and actuators.
Flowserve also offers after-market equipment services. These include diagnostics, retrofitting, installation and repair.
The company employs about 18,000 people in more than 50 countries.
2016 was a challenging year for Flowserve. Geopolitical and slow economic conditions in China, Latin America and the Middle East affected the company's business.
Even so, Flowserve managed to grow its share price 25% over last year's share price. I believe 2017 will be a much better year for Flowserve.
After Aliso Canyon, California seems to have a growing distrust of natural gas. Its focus is on controlling and preventing methane leaks. The entire natural gas supply chain is now under a microscope.
While it may be an issue for SoCalGas, it's an opportunity for methane mitigation companies like FLIR and Flowserve.
The methane mitigation industry is just in its infancy. Early investors will want to position themselves accordingly.
Good investing,
Dave